After a night in Damascus at Ahmed's place, I recover all my stuff, and over all, my bike, and hit the road to the south, to Amman. Last picture of Syria, with all those national flags, and the official portraits of the beloved president, recently reelected with more than 97% of the votes...it's not so difficult, without competition, Mr Bachar...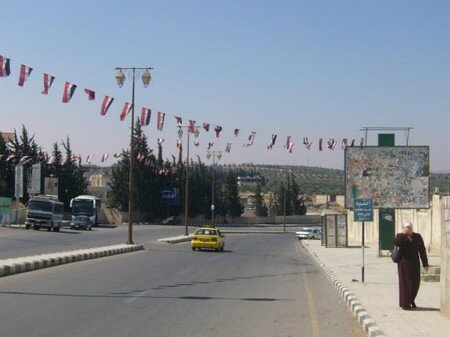 In Jordan, the dictatorship seems to be lighter, at least things are clear: it's not a republic, but a Kingdom, the Hachemite kingdom, nome given by the royal family, formerly coming from Saudi Arabia. The current King Abdullah is son of king Hussein, himself son of Talal, the son of Sherif Hussein. The portrait of the king is not everywhere, but it's difficult to ignore his face...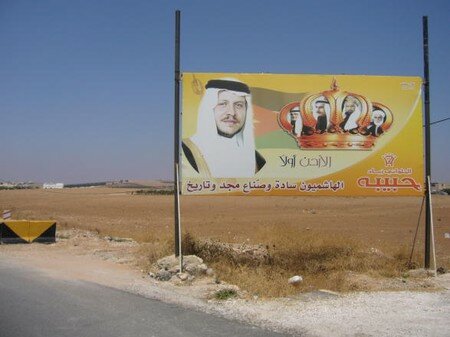 Jordan's landscapes are quite differents of Syria's, crossing the border by bike helps to understand why it's not the same country...here, some beduins, resting along the road...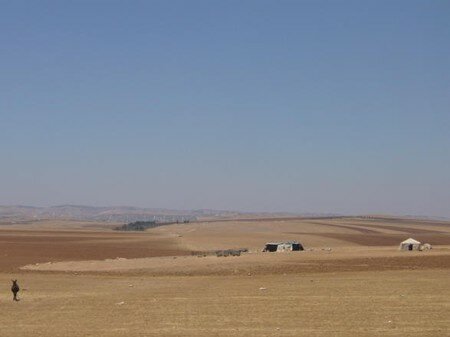 Jordan's hills are quite difficult to climb, as I didn't find a good road map of the country, I discovered along the road that Amman is...more than 700 m high! Anyway, the views are wonderfull!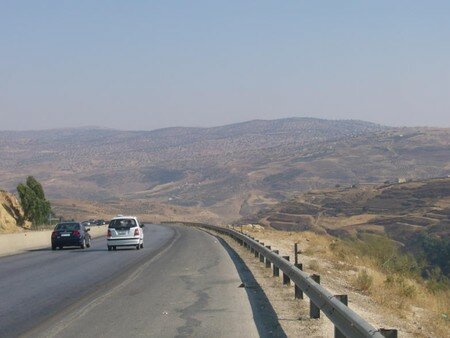 Resting a bit under an incredibly heavy sun, I'm invited by Asem for a coffee. Asem is Egyptian, I realize that Egypt is the neighbour country, and that salaries here are not to bad for workers. My friend teaches me some arabic things, it's not so easy to communicate, but we did it. Great moment of simple friendship...